- Words by Don Descouteau Photography by Lia Crowe
Upon entering mixed-media artist Joyce Bantock's backyard studio gallery in Fairfield, one is struck by how neat and tidy the room appears.
A closer look reveals innumerable paper items, from dismantled books to folded or cut-up bits and pieces. These are the raw materials of her work, the "paper ephemera," as she calls it, that always make their way into her pieces, many of which hang on the walls around her workspace.
These items provide the three-dimensional and often antiqued depth she uses to create more weight and substance and encourage the viewer into a quiet, meditative observation.
To create her art, Joyce folds, rolls, trims and sculpts various types of paper, assembling the pieces to create interesting and intriguing designs. To the onlooker, some elements in her works may resemble other things. When viewed from a few feet away, one piece framed by a reclaimed wooden partitioned box gives the impression the artist has stocked the sections with tiny colourful clamshells, when in fact they are intricately folded strips of paper.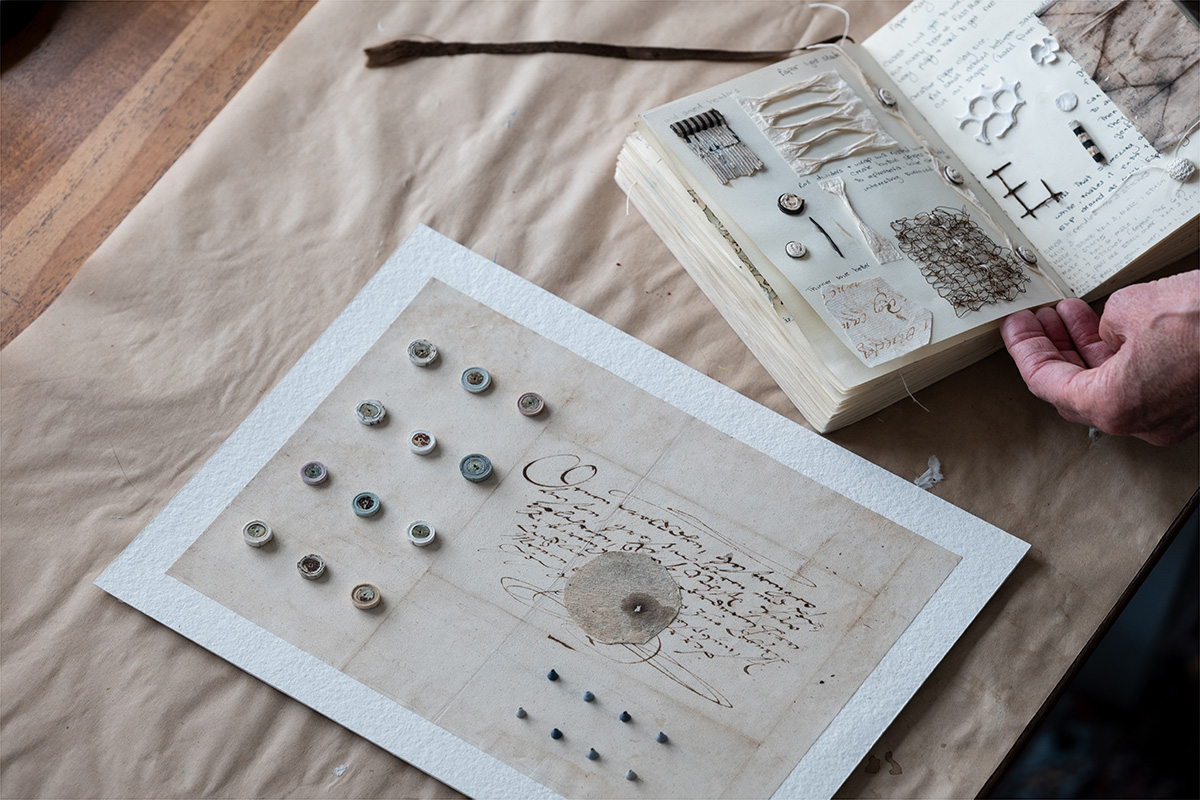 In the 13 or so years since she devoted her talents full time to creating fine art, Joyce has regularly integrated found items into her works.
"It was just things that I'm drawn to, the old letters, the script—the handwriting is beautiful," she says.
Over the years she has collected many such items during trips abroad and on visits to antique stores or paper shows.
"It feels different, it has a lovely quality to it," she says of older paper styles. "I can mould them; I can manipulate them more easily than current papers. There can be a kind of onionskin-like transparency to them, they're much more porous. But I also like the old papers because they're marked and they're aged, they just have that interest. In some cases, the handwriting has almost gone kind of oily, you can see the mark and then you can see kind of a smudginess to it."
She reaches for an example: an old document that, when folded, left a subtle line that could provide an "aged and grubby" look to enhance the overall design of a piece. She uses rusty metal to mark paper in a similar way.
One might wonder how Joyce keeps track of all these potential elements, especially after she reveals hundreds more tiny items inside a set of drawers. Conscious of her studio's limited space, she says, she must be organized enough to know exactly where to find a particular element that might suit one of her works.
That said, she is always on the lookout for interesting items. She delights in finding ornately covered old volumes being discarded by bookstores, eager to discover the potential goldmine of material to be reused in her art.
"I just gently pull them apart, depending on what the book is going to allow me to do."
That process yields coloured threads, small leather pieces and other useful bits.
"I have boxes full of old papers, and the tiniest little scraps I seem to save. Nothing gets thrown away. Sometimes I think maybe that's a sign of hoarding," she says with a grin, "but I reassure myself that I will look in that box and use it."
Joyce has a willing co-collector in her searches for potentially useful paper items: her husband Nick Bantock, the best-selling author of the Griffin and Sabine series and an artist as well.
"He's a big collector; he used old envelopes in his Griffin series, so he had a file folder of old letters and things," she says.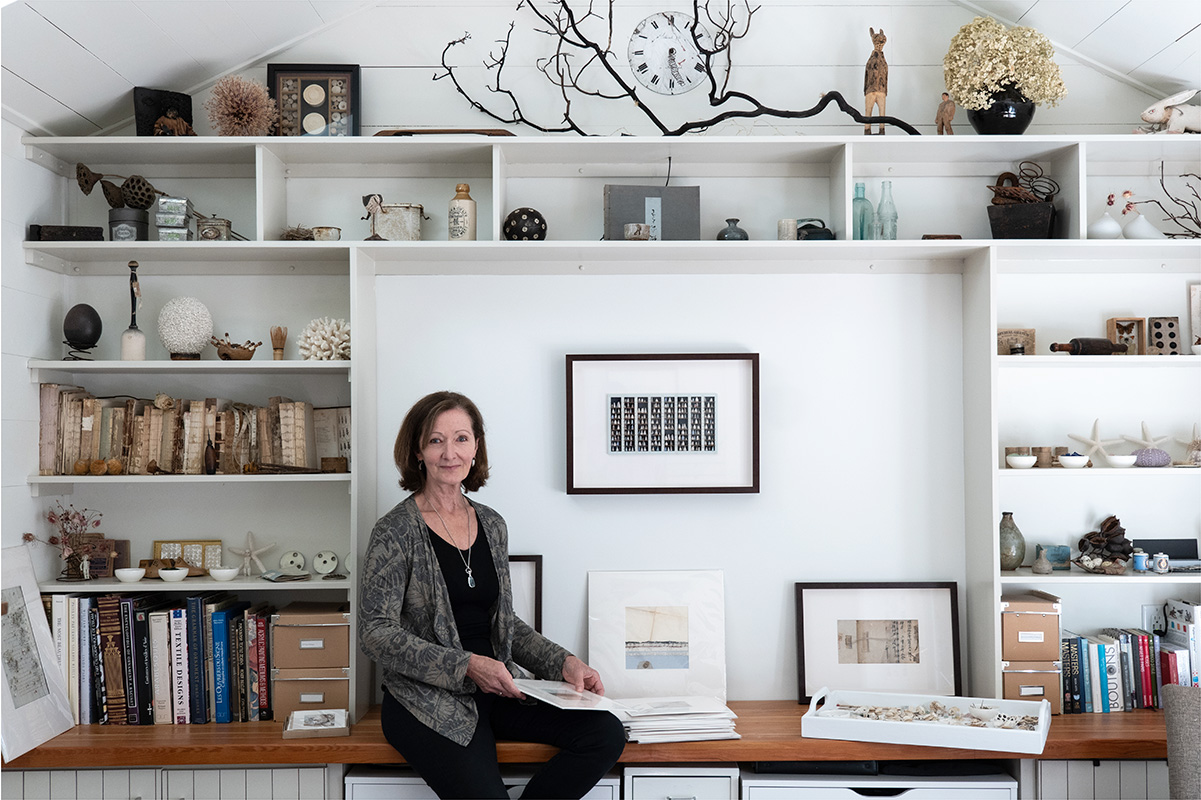 Leaving commonplace items or images out of her pieces is something Joyce does purposely to encourage the viewer to contemplate what they are actually seeing.
"[Left in] it makes the viewer's eye go directly to the object or the thing they can recognize, and then I think that kind of takes the mystery out of it. It detracts from the overall feel of the piece."
A similar belief stops her from using bright colours in her work—more muted tones are the norm. Her studio/gallery itself, from the art hanging on the walls to the decor, is devoid of any vivid displays of colour. As such, upon entering one almost immediately feels calmer, a common sentiment among visitors, who gain a sense of stillness, she says.
"There's nothing loud and jarring or anything, so it's all very quiet, very soft…you can breathe."
Summarizing comments made during home studio tours in which she occasionally participates, Joyce says people notice a difference after viewing the often colourful palettes of other artists.
"They come in here and they have not seen anything like this," she says. "The comments in my guest book time and time again say, 'It's just a beautiful space, calming and (promotes) a quiet stilling of the mind, I enjoyed being in here.' It does it for me, but it's lovely to know that it can also do that for others."
Having escaped the stressful, deadline-oriented commercial textile design industry over 15 years ago, Joyce relishes this atmosphere for art-making. No longer is she churning out finished designs on someone else's timeline. Her pieces take as long as they take to be completed, she says.
"To me this is a slow process, it's meditative, it's calming."
Not only is Joyce practising reuse and recycle in her work, her peaceful surroundings and more relaxed art-making process are helping to maintain a sustainable career.
Examples of her work can be found online at instagram.com/joycebantock. To arrange for a viewing, email her at joycebantock@gmail.com.
Story courtesy of Boulevard Magazine, a Black Press Media publication
Like Boulevard Magazine on Facebook and follow them on Instagram