July 29, 1931 - April 12, 2020
Abe passed away peacefully on April 12, 2020 with family by his side. Abe was born in a farmhouse near Rosthern, Saskatchewan and although he settled in the Okanagan in 1969, he remained a Prairie boy at heart.
Abe is survived by his loving wife Brenda, his three sons Duane (Katherine), Warren (Laurie), and Ross; grandchildren, great- grandchildren, and Nettie, the mother of his children. Also survived by his sister Ruth (Ken), brother Allan (Mary Ann), sister Audrey, beloved nieces and nephews, and cherished friends. Abe was predeceased by his infant son Michael, daughter-in-law Ewa, brother Jake, and sister Irene.
Abe's teaching career began in a one room school in Bergthal, Saskatchewan and extended to all the Western provinces, as well as some especially memorable time spent in Teslin and Old Crow, Yukon. Abe's years of teaching in the Okanagan included the honour of being the first principal of two new elementary schools, Hudson Road and Rose Valley in West Kelowna.
He was a mentor to many and touched the lives and hearts of children and teachers alike. Appreciation of art was always an important part of Abe's life, and with his retirement came the opportunity to pursue an artistic passion, that of wood turning. He spent many happy hours in his shop at the lathe.
Brenda and the family wish to express our heartfelt gratitude to Dr. Dan Obedkoff for his exceptional care, kindness, and support for our dear Abe over many years. Also, our sincere thanks and appreciation to the wonderful staff at the Community Care Clinic, the Cancer Centre, and Kelowna General Hospital. If desired, donations may be made in Abe's memory to the KGH Foundation, 2268 Pandosy Street, Kelowna, BC, V1Y1T2. www.kghfoundation.com. There will be no gathering at this time.
Condolences may be sent to the family by visiting www.springfieldfuneralhome.com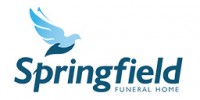 Springfield Funeral Home